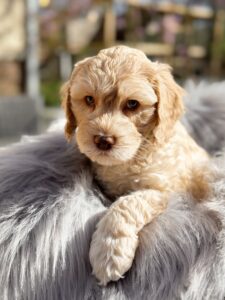 Meet Belfast
Belfast has a soft cream coat and is such a little love. Although he has more of a laid-back nature, his personality is very balanced. He is up for playtime whenever you are, but he is just as happy to spend the day snuggled up on the couch by your side. He is also very smart, and very aware of everything that is going on. He will make a great companion!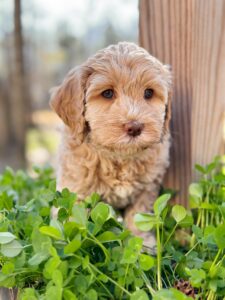 Meet Clover
Clover has a beautiful apricot coat, and is a true sweetheart. She very people-oriented. She is always the first to run up and greet us, and wants to be a part of whatever we are doing. She loves a good snuggle, and is a very quick learner. She was the first to "get it" with all of the new experiences we brought to the puppies. She will make a great best friend for any family she joins!
Meet Guinness
Guinness is a very handsome boy with a red coat and white tuxedo. He is adventurous and loves to take on new challenges. He is also very playful and loves to learn new tricks. Guinness will make a great playmate, and be a wonderful addition to a family.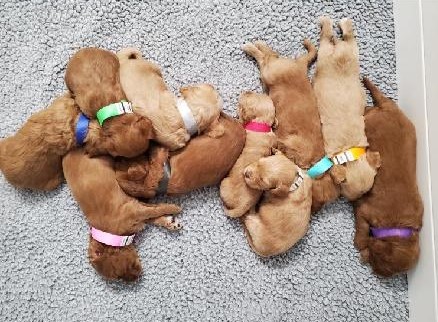 Lexi & Duke Litter
Born January 20th 2023
This litter has the perfect balance of Lexi's sweet temperament and Duke's good looks. They will range in size from 30lbs to 35lbs, and are a combination of reds, apricots, and creams with white Tuxedos. These pups will be ready to join their new families today. If you are interested in being considered for this litter, please complete our application linked below: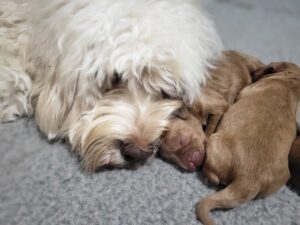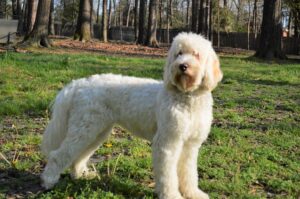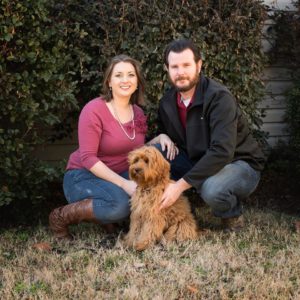 Please contact us for information about the availability of puppies from our next litter of Australian Labradoodles
Prestige Labradoodles accepts 5 to 6 non-refundable deposits per litter and reserves the right to retain puppies for breeding.
On rare occasion we may have to use a different male than originally planned due to unforeseen circumstances using a particular stud. We may decide to go with another male simply to improve a litter. Mother Nature participates in all breeding, thus the unforeseen can and does occur: small litters, non-conception, reabsorbed puppies and/or miscarriages, still born puppies, etc.
Upcoming litter arrival dates are estimations based on prior heat cycles. Actual due dates can not be determined until the dogs have been bred.
Sometimes a breeding dog becomes ill or fails to perform. We will work with you to make satisfactory arrangements if these circumstances occur.